Tips to think about when purchasing an engagement ring for your special and beautiful lady you plan to marry. I was fortunate to have had the opportunity when I was in college to work in a very high end jewelry store. There are a lot of factors that can seem overwhelming but below are some basics that will hopefully make it a little easier for you when you're choosing your engagement ring. Please feel free to email me if you have any questions.
---

Choosing the metal that holds the diamond and/or stones:
Look to see if she wears silver, yellow gold, white gold or platinum.
Then you'll need to get her ring size. If you can find a ring she wears on her ring finger (her left hand) and get a piece of paper and put the ring down on it and draw around the outside and inside of the ring this will give the jeweler a pretty close idea of what size her finger is. It's always easier to size down than size up so that when you propose it will fit on her finger.
If you chose to go with a non-traditional ring like blue sapphires, red rubies, purple tanzanites, black diamonds, green zultanites and clean moonstones, platinum is a naturally white metal that never changes color and it always makes colored gemstones sparkle brighter.
If you choose to go with a traditional diamond ring then it really depends on your budget. The typical metals you can choose from are: silver, yellow gold, white gold, rose gold and platinum.
* Platinum is the most expensive of the metals. The purity of a platinum diamond engagement ring is usually higher than that of a gold ring. Both white gold and platinum are "white" in color and to the casual eye it's next to impossible to tell the difference. Platinum also weighs more than gold because it's an extremely rare metal that is 60% denser than gold which makes it great for long term durability and daily wear.
* Yellow, White & Rose gold's are right behind Platinum in expense. 24k is 100% pure gold but wedding rings typically are not made of 24k gold because it is much too soft to be used for jewelry-making so it's combined with other metals to make it harder and more durable. If your fiancée works with her hands frequently and is often exposed to household cleaning chemicals or abrasives that could damage high-content gold bands, a lower content gold might actually be a better choice for her. Again, the casual eye will not be able to tell the difference between the different gold's. There are 3 different gold's you can choose from.  18k gold is 75% pure gold,  14k gold is 58.3% pure gold and 10k gold is 41.6% pure gold
* Silver has always been a popular choice as a wedding ring metal. It is versatile, durable and affordable, making it quite appealing to people who do not have an unlimited budget. Well polished silver looks very much like white gold, and that unique silver shine is a natural complement to a diamond.                  
---
Choosing the diamond is the next step which is probably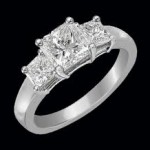 the most difficult. There are the 4C's which are Cut, Clarity, Color and Carat Weight.
Carat Weight

 is the size of the diamond.

Color

means that as you go from "H" which is completely colorless down to "Z" you'll begin to see a little more of a yellow tint as you work towards the letter "Z".
Clarity is the natural birthmark(s) that the casual eye usually can't or will never see.

Cut

is shape of the diamond.
---
Suggestions on how to choose a diamond in regards to lifestyle:
There are the many different shapes and sizes, so it's really best to find out from a close friend, mom or sister what your fiancée would prefer if she hasn't already let you know or given you hints.
Depending on what's most important to you and your fiancee then you can decide on how to go about choosing the actual diamond. If you're budget conscience and would like a larger cut diamond you can go with one that will have a little hint of yellow coloring begining with the letter "L" going down to "Z" and with few more birthmarks (known as inclusions) between "VS1" down to "I3". The other thing is the cut (shape) and some shapes are more expensive to cut than others. If you prefer a smaller size diamond then you can go with a higher color from "D" to "K" and in clarity you can go with "FL" flawless (no birthmarks) to "VS1" (very few birthmarks) and a more complex cut.
Happy Shopping and please feel free to email me if you have any questions.   Kathleen@BuckleyEvents.com